Properties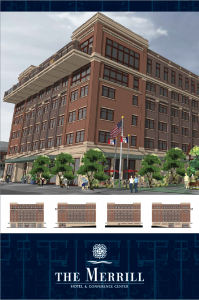 The Merrill Hotel & Conference Center,  Muscatine, Iowa
The Merrill Hotel & Conference Center is a four-star boutique hotel and meeting space venue that will be built in the heart of Muscatine, Iowa's downtown riverfront area. Named in honor of Stanley Merrill Howe, a Muscatine native who served as president, chairman and chief executive officer of Hon Industries, Inc. and is a major benefactor to the City of Muscatine, the $42 million project will be located next door to the former Hotel Muscatine in the 100 block of West Mississippi Drive.
Featuring 114 luxury guest rooms, extended-stay rooms and two-bedroom presidential suites along with 12,732 square feet of state-of-the-art conference space within the six-story hotel, The Merrill aims to revitalize Muscatine's downtown district, which is losing corporate and tourism business to nearby cities due to a lack of quality facilities. Most rooms throughout the property will offer gorgeous river views, with many overlooking the recently renovated Riverside Park, which includes trails, a boathouse, playgrounds, an ice skating rink, a splash pad, a marina and several gathering places for outdoor activities.
Guests will enjoy an onsite indoor pool, spa and fitness center that also will be available to Muscatine residents who purchase a club membership. Additional amenities include a light-fare restaurant, lobby sundries shop and luxury lounge seating, and guests may use a heated and covered walkway system to easily access two additional restaurants and a bar housed in the former Hotel Muscatine building, now known as the Pearlview Condominiums
The Merrill Hotel & Conference Center: By the Numbers
114 luxury guest rooms, extended-stay rooms two-bedroom presidential suites
189 parking spaces located in an access-controlled, parking garage/lot next to the hotel
4,353 square-foot ballroom that includes a 1,250 square-foot terrace; available for corporate and private events
12,732 square feet of conference space, catering to groups of five to 377
$42 million cost, with $20 million in equity raised by four investors – the Howe Investment Fund, Chen Lujun, Kent Corporation and MHI Fund, LLC
Properties Collaborated with Scottford
Shaker Village
Versailles, Kentucky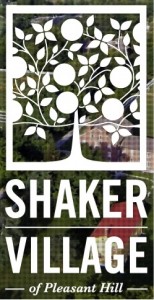 Malibu Institute
Malibu, California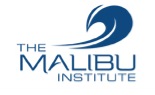 Nantahala Outdoor Center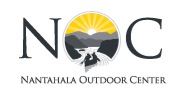 Terra Paradise
Costa Rica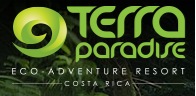 Spindletop Hall
Lexington, Kentucky
Scottford was hired to provide sales and marketing leadership to take full advantage of the World Equestrian Games in 2010.  Scottford worked with the Spindletop leadership team to create day meeting packages, improvements to the current facilities and catering events all focused on the company and people that attended the World Equestrian Games. Scottford took the lead role in identifying the companies that participated in the games and made sales calls booking meetings and catering events at the property. 
JetBlue
Long Island City, New York
Scottford consulted with JetBlue to develop a business case for building a hotel at their training center in Orlando. Scottford worked closely with Gensler Architectural and Turner construction to create Space planning documents and construction estimates. Scottford provided operating budgets and a 5-year Proforma. 
Northwynd Resort Properties: Fairmont
Scottford was hired in 2009 to manage the resort assets of Northwynd Resort Properties. The primary initiative is to convert Makaha Resort into a shared ownership model. Working closely with Pacific Links Golf, Scottford will renovate the resort to a 4-Star level to attract golfers from Asia and the US mainland to become owners and club members.  Scottford manages Lake Okanagan Resort in Kelowna, BC as well as Sunchaser Vacation Villas in Fairmont, BC for Northwnd Resort Properties. 
Tetherow
Bend, Oregon
Scottford provided an analysis for building a boutique hotel to help drive golf business at the resort. Scottford provided a competitor rate analysis, an occupancy analysis and multiple 5-year proformas based on varying criteria. 
Miraval Resort and Spa
Tucson, Arizona
Miraval saw an opportunity to increase their meetings market by expanding their meeting facilities. Scottford analyzed the current meeting room configurations, and created a phased plan for increasing the number of meeting rooms in a way that would not interfere or affect the spa guests. Scottford provided a budget for operating supplies and equipment as well as a profit analysis for the new meeting space.